Ditalix B
is the next generation of my popular live wallpaper app. The new engine is faster and easy on your battery. Thousands of shapes and patterns and the ability to share themes with others. Create beautiful wallpapers like never before!
NEXT GEN FEATURES
• Combine backgrounds, shapes and interactive animations
• Browse or search a huge database of patterns and shapes
• Publish your themes and vote on other peoples uploads
THE BETA
Ditalix B is in
beta
please report bugs using the "Send report" function in Settings. If you have a problem we would appreciate it if you communicate it that way or post here instead of through Play comments. That would help a lot.
Some themes are only our poor attempts at Old Ditalix using the new engine. You're welcome to make them better!
ACCOUNTS
This app uses Google accounts to authenticate users who want to upload their themes. All content is moderated, so be patient if you don't see your theme immediately. Also please read the license and about carefully. Only themes we judge to be for "everyone" according to Google policy will be published.
Users who dont want to share themes dont need to use the accounts permission at all.
GET DITALIX B
SCREENSHOTS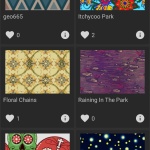 Last edited: